Tilt&Turn windows: what does it mean?
Tilt&turn windows are a European standard that allows you to operate your window according to the situation. The ability to tilt and swivel makes them the ideal window solution when ventilation and access are required. The tilt function tilts at the bottom and swings the sash into the room, providing natural airflow and protection from the rain or light snow. The pivot position is a fully opening option that allows the window to be opened in its entire range. Tilt&Swing windows are engineered for smooth operation and excellent thermal performance.
Lift&Slide: what does it mean?
A Lift&Slide door works in a similar way to a traditional sliding door, except that when the work door panel is engaged, it is lifted onto ball-bearing rollers from a locked position for easy sliding. The door is either lowered to the locked position or raised to a sliding position by turning the handle. This function prevents the door from sliding before the handle is turned. The unique Lift&Slide door hardware system ensures easy and smooth operation and provides a better air seal to improve energy efficiency.
What color options do I have?
We have 250+ RAL color choices for aluminum windows and aluminum cladding and vinyl products. Some colors available with different structures. Inorder to know more, please, see our color options available on COLORS page or visit our showroom.
For vinyl windows and doors we have color and texture options that imitate natural colors.
A Passive House: what does it mean?
Passive House is not a brand name, but a construction concept that can be applied by anyone and that has stood the test of practice. Passive House (Passivhaus) buildings consume up to 90 % less heating and cooling energy than conventional buildings. Applicable to almost any building type or design, the Passive House high-performance building standard is the only internationally recognized, proven, science-based energy standard in construction. Certification ensures that designers and consultants are expertly qualified to design buildings to meet the building standard that is truly energy efficient, comfortable, affordable and ecological at the same time.
How long does it take to ship from the factory to my job site?
Shipping times depend on your location in Canada or the US. Based on typical manufacturing times we recommend estimating lead times of 10 weeks to 12 weeks from time of order.
What are the Maximum dimensions for windows and doors?
Maximum dimensions for windows and doors depending on the style, material, and opening type. Our company specializes in custom solutions for any type of architectural designs. We can arrange for windows to be mulled together for even larger configurations and offer curtainwall systems for expansive glazing options. In order to know what we can offer to your project with a non-standards dimension, please, send our building plans at estimates@totalproject.ca and our project manager will contact you shortly.
What is SHGC?
SHGC stands for Solar Heat Gain Coefficient. SHGC is the fraction of solar radiation entering through a window, glass door, or skylight that is transmitted directly and/or absorbed and then released as heat inside the home. The SHGC is a ratio between 0 and 1. The lower the SHGC, the less solar heat it transfers, and the higher its shading ability. A product with a high SHGC rating collects solar heat more efficiently in winter. Solutions with a low SHGC rating are more effective in reducing cooling loads during summer.
What is NFRC certification?
NFRC stands for National Fenestration Rating Council. It's a nonprofit research organization that develops and administers energy-related rating and certification programs that serve the public by providing fair, accurate, and credible information on fenestration performance.
NFRC certification gives consumers the assurance that the product they choose has been rated by the world's foremost expert in window, door, and skylight performance.
While the ENERGY STAR label tells you if a product is energy-efficient, the NFRC label helps you compare between energy-efficient products by breaking down a product's energy performance.
NFRC Label examples for TFS Windows:
What is NAFS certification?
NAFS (also known as NAFS-08) stands for North American Fenestration Standard (Specification) for windows, doors, and skylights. NAFS establishes minimum and optional performance requirements for windows, doors, tubular daylight devices, and unit skylights. The standard was developed jointly under the guidance of the—Canadian Standards Association, American Architectural Manufacturers Association, and the Window & Door Manufacturers Association back in 2005.
Today, NAFS defines basic performance requirements for a wide variety of styles of window, door, and skylight products (double-hung, casement, horizontal sliding, etc.) made of aluminum, vinyl (uPVC), ABS plastics, fiberglass, cellulosic composites, and wood, as well as those with aluminum or vinyl cladding. It relies on Performance Class and Performance Grade designations to guide this evaluation and selection process.
What does U-value mean?
The U value is the coefficient of heat transfer for heat transfer through a structure divided by the temperature difference within that structure. Units of measurement – W / m²K.
The lower the thermal conductivity of building elements, the slower heat can pass through it, and therefore the better it acts as an insulator. In general, the lower the thermal conductivity of the building materials, the more energy-efficient the window, door, or skylight. It means less energy is required to maintain a comfortable environment inside the building.
What is Bi-folding Doors?
Bi-folding Doors is an architectural solution with panels that fold open and closed like an accordion and open a house to true indoor/outdoor living. Bi-folding doors open completely and create large panoramic openings into your garden or patio. Doors with bi-folding opening type consist of two or more door connected panels that open concertina style, folding away flat to one side when open.
What is a Storefront?
"Storefront" is a term in the construction industry for any type of aluminum system with glazing that is commonly used in commercial retail and office environments. The storefront usually spans between the floor and the structure above, designed for high use and strength. Today all storefront solutions have extra protection (double glazing with lamination), can be motorized, with integrated "smart control" systems that regulate access to the building from smart devices or with the biometric pass.
What is Slim Aluminium?
Slim Aluminium is a highly insulated system inward and outward opening windows and doors, which combines elegance and comfort, with a unique design. This special slender steel look is the perfect solution for modern architecture and renovation of steel-framed windows, respecting the original design but offering a thermally improved solution. If you want to make beautiful outside space a part of your exterior design – Slim Aluminium line is your solution. Almost invisible, with a possibility to make zero threshold sliding doors, slim aluminium systems (SL 38 or S 67 phos) blur the boundaries between outdoor and indoor living.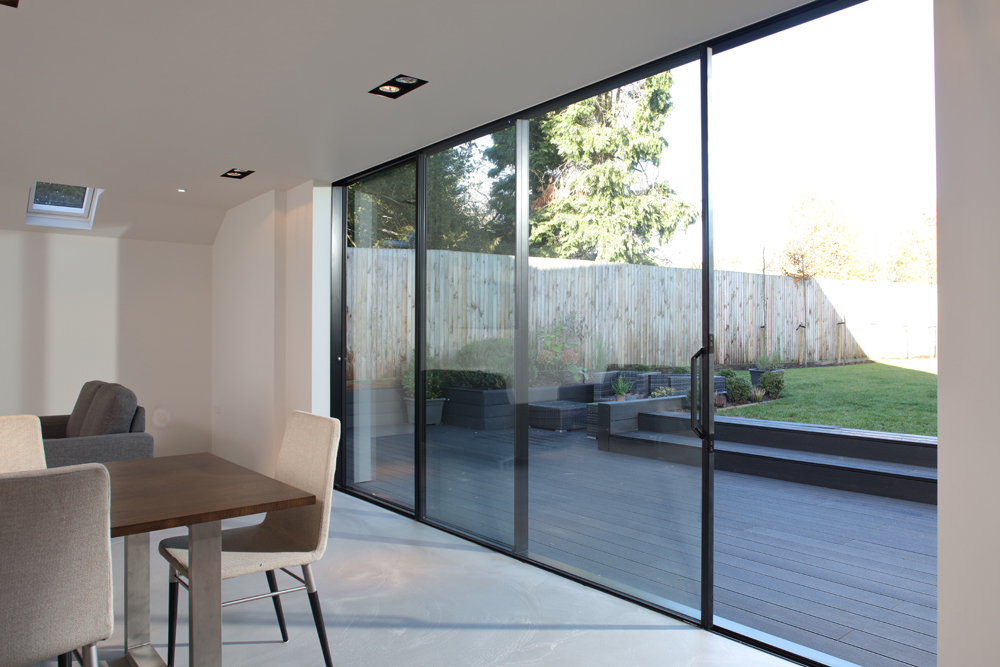 What is Curtain wall?
Curtain walls are a highly flexible and customizable solution, that offers unlimited freedom in design and maximum transparency in a roof and facade system. The degree of customization and flexibility means that this curtain wall system is available in a variety of glazing and design variants. This also includes a range of technical variations to ensure compliance with specified levels of thermals insulation and fire resistance. All Curtain walls systems are specially designed for easy installation and production with options available for both the interior and exterior of the building.
In our daily life, we meet curtain walls at airports, malls, office and administrative buildings, schools, clinics, hotels, and residential houses.
Sliding motorized door: How it works?
Motorized Sliding Doors are an innovative solution that adds an automatic opening/closing function to your glass sliding door. Modern door drives are completely silent, energy-efficient, and have several control options. One of the controlling options is integration to the smart home system and operating from home app. Swing gear damper ensures safe and smooth soft-closing at the end of the door closing. Most motorized doors close automatically from any position you release the door to the complete close position. All motorized doors have protection functions that bring all systems to complete stop if something is detected in the path of movement.
If our FAQ list doesn't answer your question, please give us a call at 1 778-729-1575 and we will be happy to assist you.